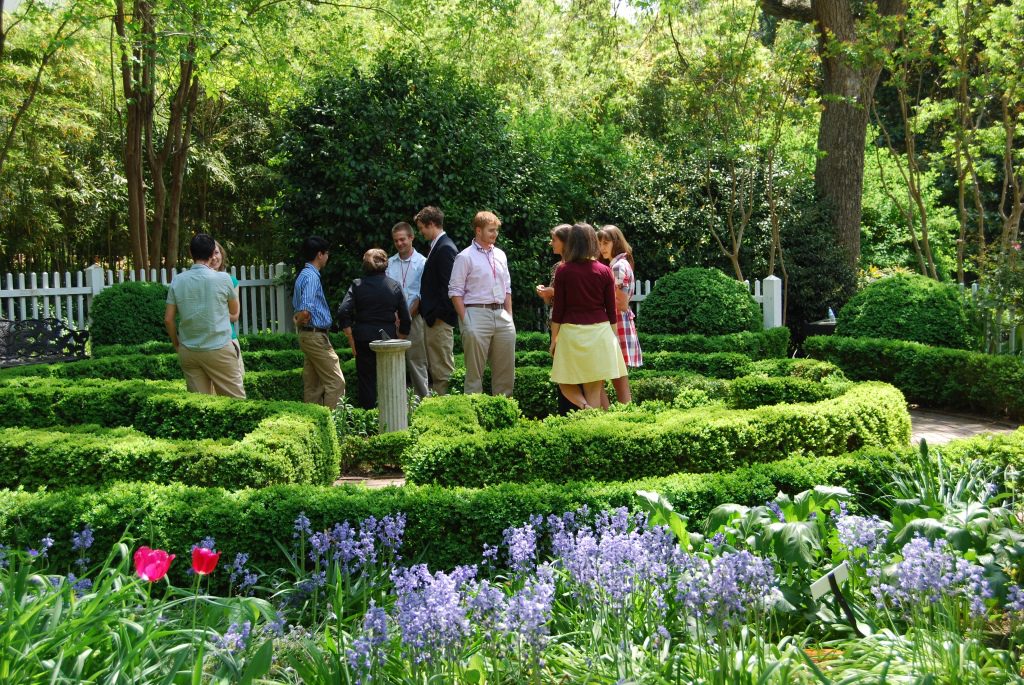 The Founders Memorial Garden
In 1936, the Garden Club of Georgia began a fund to create a living memorial to the twelve founders of the Ladies' Garden Club of Athens, the first garden club in America, organized in 1891.
Dean Hubert B. Owens, his staff, and students of the Landscape Architecture Department, working with funds contributed by Garden Club of Georgia members, designed and developed the nationally acclaimed Founders Memorial Garden, completing the project in 1946. This garden not only serves as a museum of landscape design, but as a natural laboratory for botany, forestry, and related disciplines.The layout of the two and one-half acre series of gardens, the grounds of our former Headquarters House, consists of a formal boxwood garden, two courtyards, a retrace, a perennial garden, and an arboretum.
Once the Garden was established, GCG acquired the old smokehouse for a living museum to the twelve original garden club members. It was restored and furnished in keeping with the period of the house. Historical mementos, pictures, and a painting depicting the historical first meeting of a garden club are among the most treasured items in the museum.
Rental contracts and policies can be found on the Founders Garden website. Please contact the Director, Cari Goetcheus, at [email protected] or 706-542-0061 for rates and availability.
Founders Memorial Garden
325 South Jackson Street
Athens GA 30602