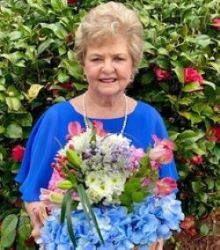 2021-2023 President Peggy Tucker Growing with Challenges and Changes
In this world full of challenges and changes, your State Garden Club President is a hard-working mom, grandmother, friend, community leader, and a dig-in-the-dirt gardener. Peggy Tucker is a special leader who has always been an inspiration to others but most importantly, she is our mom.
Our mom was born in rural Franklin County, Georgia as one of six children (4 brothers and 1 sister) and has lived in the state of Georgia her whole life. Living now in Hartwell, Georgia, you could say that Georgia has always been on her mind. In her high school years, she was President of FHA, FHA State Treasurer, won the title of Miss Merry Christmas in 1963, and the title of Miss Hart County High School in 1964. She graduated from Hart County High School in 1965 and went into banking immediately after school until starting the family business with our father, William O. Tucker in 1969. They have managed the family business of water wells, general grading, and roll-off containers. Mom has been the office manager for 52 years at William O. Tucker, Inc. and she serves as the President of Paradise Point Water Company, Inc. which owns and operates several water systems for residential subdivisions on Lake Hartwell. Mom and Dad both regularly attend certification courses to maintain their Business licenses in multiple states. Our parents will celebrate their 55th wedding anniversary this summer.
Raising 3 sons may appear to some as a challenge but she did it with ease. She spent those early years running a family business, taking us to our sporting events, and staying involved in the community through church and local organizations. In 2000, she was recognized by The Hartwell Sun as Mother of the Year for the community. The family has now expanded with six grandchildren (one by marriage) and one great grandchild who was born in fall of 2020. Mom's love of plants, nature and being outdoors has influenced our family in so many ways. Each year the grandchildren have a flower bed at the lake house that they enjoy planting and watching grow. Spending time with family, baking, gardening, and reading are mom's favorite things to do.
Mom is an active member of First Baptist Church of Hartwell and has an outstanding record of 40 years of perfect attendance in Sunday School. Even through a pandemic and shelter in place, she arranged Sunday School classes via Zoom. Mom has always given back to the church and community by being a part of the sanctuary choir, Senior Outreach Ministry, Prayer Leader, Church cook team and serving on the Decorating and Flower Committee.
Being a garden club member for 33 years, she has served the Pine Tree Garden Club as Secretary, Vice-President, Scrapbook Chairman, Parliamentarian, Historian, and President. In addition to her local garden club, Mom has served on the United Garden Club Council of Hartwell in many leadership positions, including President. She has served the Azalea District as Secretary, Co-Director and Azalea District Director. She is a dig-in-the-dirt gardener and helps to maintain the club's roadside monument area along Highway 29 in Hartwell. On the state and national level, she has served on the Deep South Region Board as Garden Therapy Chairman and on the National Garden Club Board as Garden Therapy Chairman. She loves fresh cut flowers from the yard in her home and shares them to bring joy to others.
As an annual tradition, the family hosts a 4th of July BBQ and Fireworks show each year on Lake Hartwell where hundreds from around the community enjoy a celebration of America. Mom loves her country, loves red, white & blue, and all things USA! With the challenges and changes our country has seen over the past year, she wants you to think about how gardening can enhance your life and the lives of others. Our mom is excited to promote the love of gardening, getting outside and digging in the dirt as well as promoting recycling and litter control to protect our state and our country. While it's not just growing the garden, it is also growing our friendships with one another across the state and in our community through the Garden Club. Mom's theme of Plant America - Growing with Challenges and Changes means so much more to her than just a theme. It's about being a change in your community!
By Chad, Todd and Joey Tucker