MAGNOLIA DISTRICT - DISTRICT 05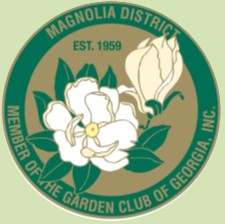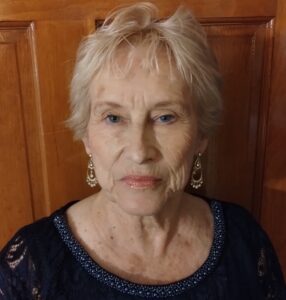 District Director 2023-2025 - Kay Hagler
Theme: Plant your Community with Beautification, Conservation, and Education!
District Specific Forms
Policies and Procedures 
COMING SOON: District Guidelines (formerly Bylaws) are under review and revision. They will be posted after presentation and approval by the District Board.
What's Happening in the District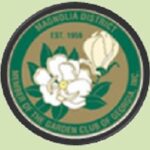 Magnolia District, Plains Georgia: One fine Saturday in October of 2022, the Blue Star Marker located in Plains, Georgia at the Welcome Center on GA Highway 280 got a wonderful…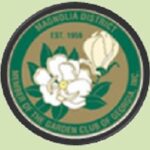 The Bee Beautiful Garden Club members and a special guest came together to have a fall clean-up day for the butterfly Garden at the Stewart County Courthouse recently. On Sunday,…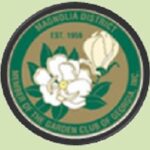 Fairgoers who took in the Standard Flower Show in Perry Georgia during October were rewarded with beautiful designs, interesting horticulture, and interesting ideas. If you have not attended the Georgia…
Sharing the fun activities of our district clubs!
MAGNOLIA DISTRICT - Member Garden Clubs
ALBANY
05-005 ALBANY GARDEN CLUB
05-020 DAFFODIL GARDEN CLUB
05-050 PALMYRA HEIGHTS GARDEN CLUB
AMERICUS
05-055 SOUTH GEORGIA DESIGNING WOMEN
05-060 AZALEA GARDEN CLUB OF AMERICUS
05-075 DOGWOOD GARDEN CLUB
05-078 EARLY BLOOMERS GARDEN CLUB
05-923 C - SUMTER CO FEDERATION OF GC
BUENA VISTA
05-145 BEAUTIFUL VIEW GARDEN CLUB
BUTLER
05-150 BUTLER GARDEN CLUB
BYRON
05-155 VILLAGE GREEN GARDEN CLUB
CAMILLA
05-211 GG CAMILLA GARDEN CLUB
COLUMBUS
05-215 THE AZALEA GARDEN CLUB OF COLUMBUS
05-245 GREEN ISLAND GARDEN CLUB
05-315 TEA OLIVE GARDEN CLUB
05-330 WINCHESTER GARDEN CLUB
05-926 C - COLUMBUS COUNCIL OF GC
COLEMAN
05-335 AZALEA GARDEN CLUB OF COLEMAN
CUTHBERT
05-340 CAMELLIA GARDEN CLUB OF CUTHBERT
ELLAVILLE
05-375 RAINBOW GARDEN CLUB
FORT GAINES
05-380 FORT GAINES HOME AND GARDEN CLUB
FORT VALLEY
05-390 MAGNOLIA GARDEN CLUB
OGLETHORPE
05-440 OGLETHORPE GARDEN CLUB
RICHLAND
05-465 BEE BEAUTIFUL GARDEN CLUB
VIENNA
05-485 VIENNA GARDEN CLUB