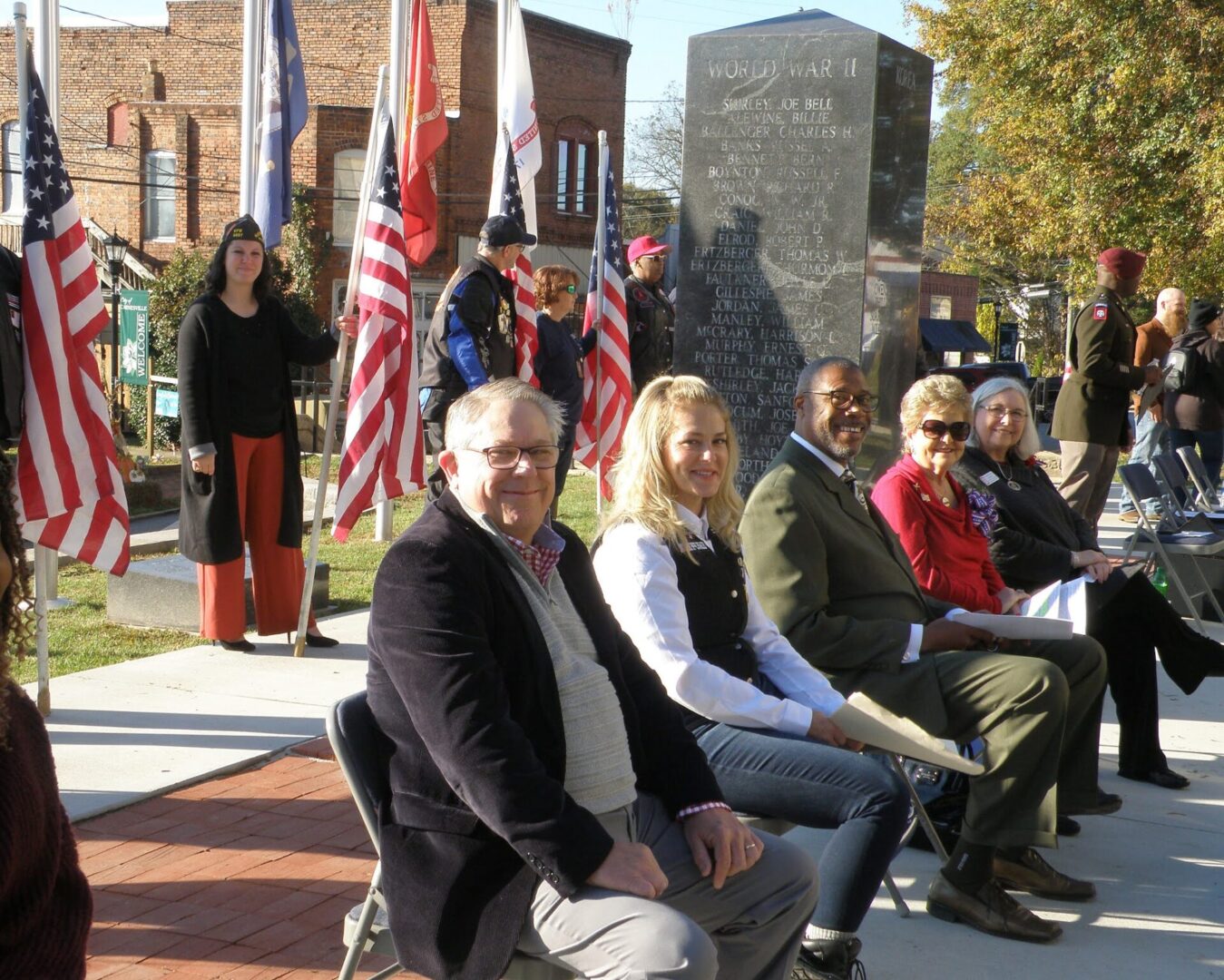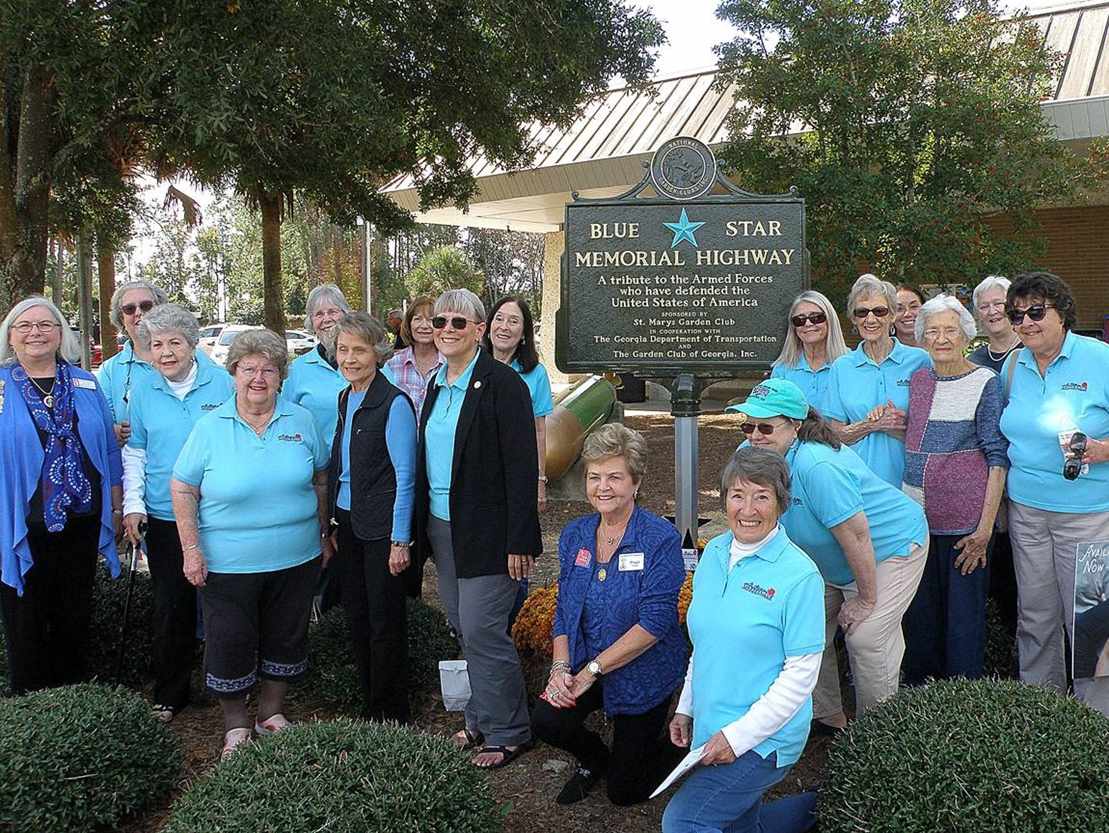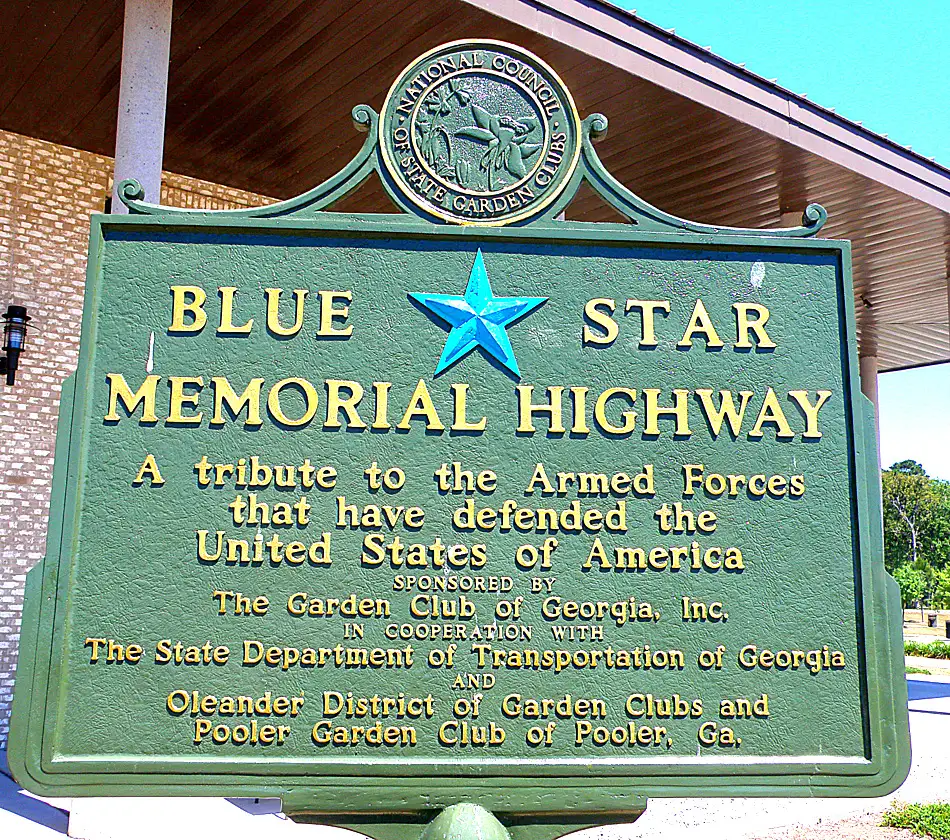 Blue Star, Gold Star, Historical Markers
The Blue Star Memorial Program, established in 1944, honors service men and women who have served, are serving or will be serving in the armed services of the United States.
The Blue Star became an icon in World War II and was seen on flags and banners in homes for sons and daughters away at war as well as in churches and businesses. The Blue Star was replaced by a Gold Star when a service member died while serving in conflicts.
The program began with the planting of 8000 dogwood trees by the New Jersey Council of Garden Clubs. In 1945, the National Council of State Garden Clubs (now NGC) adopted the program and began a Blue Star Highway system, which covers thousands of miles across the United States. A large metal Blue Star Memorial Highway Marker was placed at appropriate locations along the way. In 2015 the Gold Star Families Marker was incorporated into the National Garden Clubs program. The Gold Star Families Marker honors the families of U.S. Armed Forces members who died in battle or in support of certain military activities. Since the program's inception, garden clubs across the country have dedicated over 3000 markers along US highways, national cemeteries, VA hospitals, military facilities, parks and other locations.
Georgia Garden Clubs have been very supportive of this program by raising money to sponsor Markers throughout our state. Click here for additional information about the program and order forms.
The Garden Club of Georgia, Inc. is offering a grant to the seven districts and member clubs/councils for the restoration of Blue Star Markers. Click here for grant application and more information. Please note that Blue Star Marker prices purchased through Sewah Studios as of May 1st, 2023 through May 1st, 2024 will change. 
Any other questions? Contact:
Janice Thiese - Chairman,Blue Star Memorial and Gold Star Families Markers
The Garden Club of Georgia, Inc.
128 Weatherby Drive
Macon, GA 31210
Cell (478)319-4234
Blue and Gold Star Markers by District