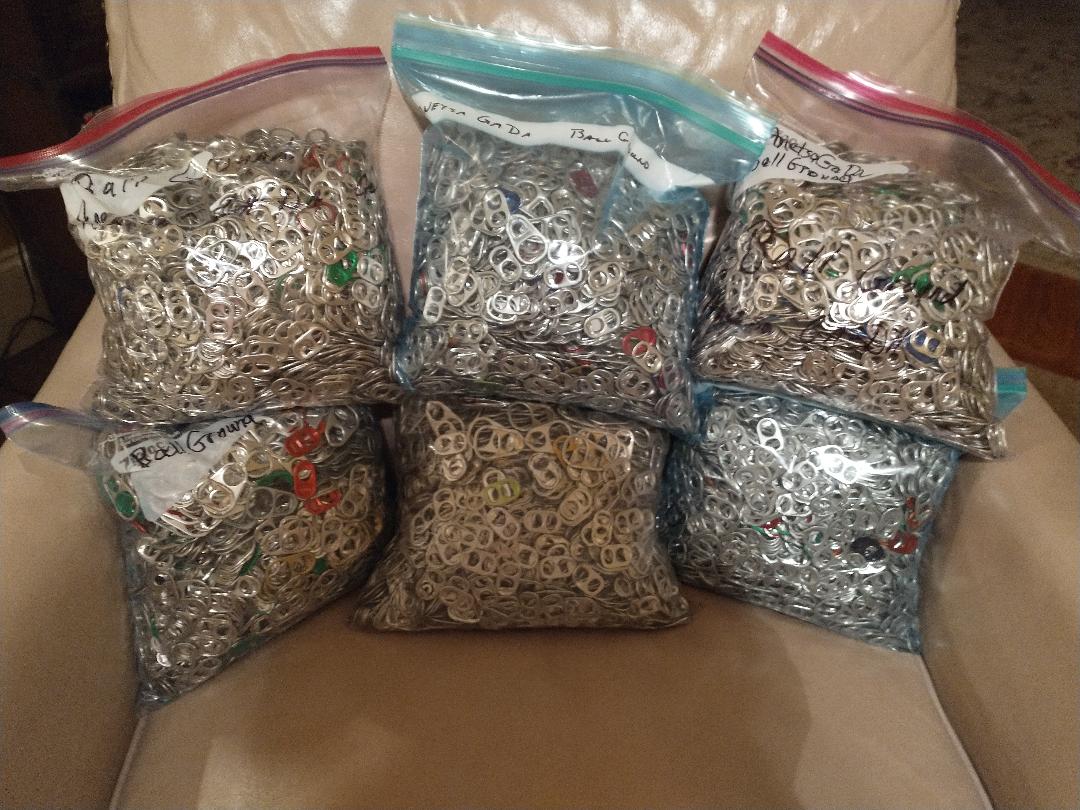 Pull-a-Tab for Ronald McDonaldCommunity on My Mind
For The aluminum pull tabs project was started during the term of Dollie T. Harper, 41st GCG President (2005-2007).  When her great nephew was born a preemie his mom stayed in the Ronald McDonald house to be close to him until he was able to go home.
Dollie learned that many small things were needed to help those staying for long periods of time: small bottles of shampoo, conditioner, hand soap, toothpaste, brushes, canned foods, crackers, soft drinks and paper products.  Monies received from the tab tops helped purchase these items so that those staying at the house could have something to eat & drink, plus toiletries without having to go shopping for these items.
She encouraged all Georgia Garden Club members to collect the tab tops and turn them into Ronald McDonald houses around the State. During the years clubs, districts and GCG State Board appointed Pull Tab chairmen and it became a friendly competition to see which clubs and districts could collect the most  tabs in weight. Certificates for 1st, 2nd and 3rd place are awarded at the Annual District meetings and the State Convention.
Clubs without Ronald McDonald houses in their districts are encouraged to collect tabs and cans and turn them into recycling centers. Funds generated in this way should be sent to the nearest Ronald McDonald House.
The program results in thousands of pounds of pop tops from GCG clubs. Since 1998, for instance, Atlanta's Ronald McDonald House received $160,600 funds from pull tab donations
Ronald McDonald Houses in Georgia
Atlanta
5420 Peachtree Dunwoody Rd.
Atlanta, Georgia 30342
404-847-0760
Augusta
1442 Harper St.
Augusta, Georgia 30901
706-724-5901
Columbus
1959 Hamilton Rd.
Columbus, Georgia 31904
706-321-0033
Macon
1160 Forsyth St.
Macon, Georgia 31201
478-746-4090
Coastal Empire
4710 Waters Ave.
Savannah, Georgia 31404
912-350-7641
For more information contact State Pull-a-tab for Ronald McDonald Chairman:
Ann Howell
ahowell01@windstream.net