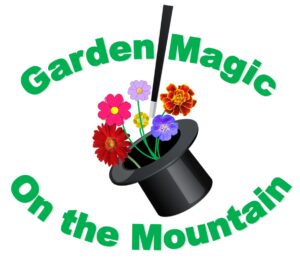 2023 GCG State Convention!
Dogwood District is hosting  a fantastic event: "Garden Magic on the Mountain." to celebrate The Garden Club of Georgia's 95th Anniversary.     The Evergreen Lakeside Resort offers the perfect setting for our three days of information, fun, and fellowship – with its gorgeous scenery, beautiful lakes, and the many activities that Stone Mountain has to offer.  Come early or stay longer to enjoy it all- bring your spouse  or other family members.
We are hoping many of you will join us for the festivities. We promise it will be lots of fun,
Be sure to check out all of the details for each day and get your registration in to join us. Download the registration at the bottom of the page.
Pre-Event:  Monday, April 17, 2023
Early Arrivals
Dinner on your own or join others for Dutch Treat Dinner
Day 1 (Tuesday, April 18, 2023) Board meeting, Convention starts
Breakfast on your own
Registration  
| | | |
| --- | --- | --- |
| 11:00 AM – 2:00 PM |   | Spring GCG Board meeting and Luncheon – Pre-event Function go to registration to pick up badges and registration materials.  |
| 12:00 PM – 7:00 PM |   | Vendors and Exhibit Rooms Open |
| 2:30 PM – 4:30 PM |   | Two workshops in the Amphitheater – Greg Freeman and Ashley Frasca |
| 5:15 PM – 6:45 PM |   | Installation of District Officers in rooms adjacent to cash bar – two shifts |
| 5:30 PM – 7:00 PM |   | Cocktails & Conversation – Cash Bar |
| 7:00 PM – 10:00 PM |   | Welcome Banquet, Keynote Speaker: Dean Norton - Head at George Washington's garden at Mt. Vernon |
Day 2 (Wednesday, April 19, 2023) Convention
Breakfast on your own
Registration
12:00 PM – 7:00 PM

 
Vendors and Exhibit Rooms Open

9:30 AM – 11:30 AM

 
Opening Business Meeting

12:00 PM – 2:00 PM

 
Award of Merit Luncheon and Youth Award Presentations
Guest Speaker:  William Smith, Atlanta Landscape Architect.
Introduce new clubs

2:30 PM – 4:30 PM

 
Two workshops in the Amphitheater – David Brown and Bonnie Satterthwaite

5:15 PM – 6:40 PM

 
District Group Photos in room adjacent to cash bar – in shifts.

5:30 PM – 7:00 PM

 
Cocktails & Conversation – Cash Bar

7:00 PM – 10:00 PM

 
Awards Banquet
Day 3 (Thursday, April 20, 2023) Convention
                                               Breakfast on Your Own
9:30 AM – 11:00 AM

 
Final Business Meeting

11:30 AM – 2:00 PM

 
Member Celebration Luncheon and State Officers Installation
Includes recognition of Life Members
Installation of GCG Executive Committee and District Directors
President's Acceptance Speech.
*Schedule subject to change
Opening Dinner on Tuesday April 18:
Dean Norton – Dean Norton, 43-year Director of Horticulture at George Washington's Mt. Vernon Estate, will be our opening night speaker. This award-winning horticulturist will both entertain and educate us with his wit, wisdom, and beautiful slide presentation.  He's appeared on The Today Show, Good Morning America and many cable channels dealing with homes, gardens, and history.
Award of Merit Luncheon on Wednesday April 19:
Bill Smith - Bill Smith, an Atlanta Landscape Architect, has been a speaker at numerous garden club functions in recent years to the accolades of all who hear him. He will share slides of gorgeous landscapes with us in a new presentation entitled "Your Landscape Design Process - From Soup to Nuts."
4 Workshops speakers
Tuesday afternoon April 18 2:30 pm - 5:30 pm      
Greg Freeman will present a workshop on Daffodils in Southern Gardens. Greg is an avid gardener and daffodil hybridist, exhibitor, and judge. He is a past editor of The Daffodil Journal, and currently serves on the board of the American Daffodil Society as a Southeast Regional Director. Greg is a digital publisher whose writings on plants and garden-related topics have appeared in The American Gardener, The Daffodil Journal, Carolina Gardener and his own digital publications. 
Ashley Frasca, Atlanta radio personality, spent 8 years as the WSB producer of the Lawn & Garden Show for Walter Reeves prior to starting her own new show "Green and Growing" every Saturday morning in Walter's former time slot. She is a dynamic lady, very knowledgeable and spontaneous. Come meet the face behind the radio microphone!
Wednesday afternoon April 19 2:30pm-5:30pm
David Brown will be doing a hands-on floral design workshop, an event not to be missed! David is the Greenhouse Manager and Floral Designer at Hills and Dales Estate in LaGrange. He has been both an instructor and floral shop owner/manager, whose floral designs are exceptional.
"Envious Container Gardens." By Bonnie Satterthwaite, the Southeast Territory Sales Manager for Espoma will give a hands-on workshop featuring Container Gardening. GCG has been thrilled to have Bonnie with us before and at the National Convention. She has worked in the Green industry for 30 years, is an avid gardener, and loves to share her knowledge of all things gardening
*Subject to change 
HOTEL RESERVATIONS
2023 GCG Annual Convention
Evergreen Lakeside Conference Resort
4021 Lakeview Dr, Stone Mountain, GA 30083
Deadline for hotel registration:
 on or before March 26, 2023 to receive group rate. 
$143.00 ++ per night for King or Double – included in price is $4 reduced entrance fee to Stone Mountain Park
 for staying at hotel – normally $20.
Best way to register for hotel:
Online-click here to register:https://book.passkey.com/e/50303356
Follow the prompts, enter your dates, and select room type.
****If you need special accommodations, handicapped rooms, etc.  After you make your reservations on-line and the hotel has your credit card # on file, THEN contact our GCG Convention Coordinator,  GERI  SHAW,  and she will handle making those arrangements with the proper person at the hotel to make sure everyone is happy!!!.   Geri Shaw  at  [email protected]  She will need your hotel confirmation number, dates of stay, etc. 
Convention Registration
To register for convention, just download the registration form by clicking the download button below. Print out the form and mail with your check.